VIRTUAL SYMPOSIUM
Enchanted: Mythology and Fairy Tales
A VIRTUAL SYMPOSIA SERIES ORGANIZED BY THE ROCKWELL CENTER FOR AMERICAN VISUAL STUDIES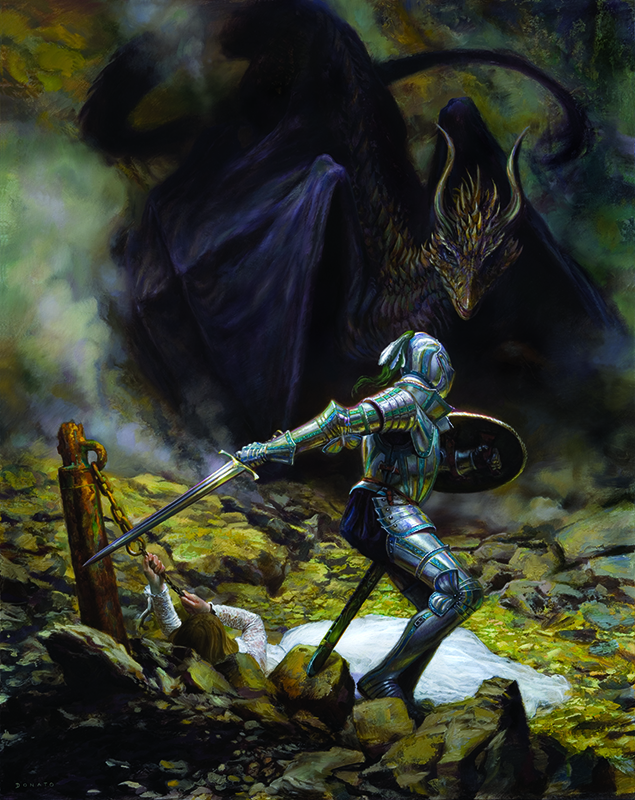 Image: Donato Giancola, St. George and the Dragon, 2010, © Donato Giancola
Enchanted: Mythology and Fairy Tales
Friday, October 22 and Saturday, October 23, 2021 (Via Zoom)
Explore the history and meaning of mythology and fairy tales in our lives, and the mythic characters and stories reflecting the inevitable conflict between the forces of good and evil – both real and imagined. On Friday, art historian and catalogue essayist Alice A. Carter will offer a keynote focusing on fantasy in the age of discovery. On Saturday, Rockwell's own flights of the fantastical will be explored by Chief Curator Stephanie Plunkett, and panelists Ruth Sanderson, Jane Yolen, Victo Ngai, Justin Gerard, and Iain McCaig will discuss their inspirations and the presence of myths and fairy tales in their art.
Enchanted: Epic Adventures in Fantasy Illustration
Friday, June 18 & Saturday June 19, 2021 (Past)
Explore the art and history of fantasy illustration and the mythical, mystical, folkloric artworks by masterful artists who are leading the way in this popular genre. Often inspired by the fantastical in literature, fantasy art has been prominent through the centuries in medieval, mannerist, magic realist, romantic, and surrealist imagery. The field's historical underpinnings and inspirations will be the subject of conversation by exhibition curator Jesse Kowalski as well as prominent practitioners whose art is featured in Enchanted: A History of Fantasy Illustration.